DVM, DACVS-SA
Veterinary Surgeon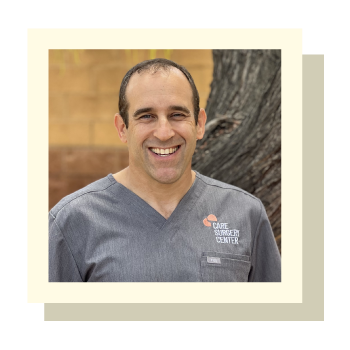 Dr. Matthew Keats specializes in trauma and wound reconstruction.
Dr. Keats received his Bachelor of Science in Biology from the University of Maryland, College Park. He then graduated from the Virginia-Maryland Regional College of Veterinary Medicine in 1999. After graduation he continued his education with a small animal rotating internship at the VCA Berwyn and Franklin Park Animal Hospitals where he received the "Intern of Year" award. The following year, he remained on staff at VCA Berwyn Animal hospital as an emergency clinician and intern supervisor.
In 2001, he returned to Maryland where he completed a one year small animal surgical internship with Chesapeake Veterinary Surgical Specialists (CVSS), splitting time between the Towson and Annapolis offices. Upon completion of his internship, he accepted a surgical residency with CVSS. After completing his residency in 2005, he became board-certified in 2006 and remained on staff in the Towson office until the end of 2009.
From the beginning of 2010 until mid-2014, he worked at VCA Veterinary Referral Associates (VRA) in Gaithersburg, MD as a staff surgeon performing both soft-tissue and orthopedic surgery. He was the Intern Director for the intern class of 2013-2014. In July, he transferred to VCA Old Marple in Springfield, Pennsylvania to start a referral surgical service before returning to Chesapeake Veterinary Surgical Services.
Dr. Keats has special interests in trauma and wound reconstruction. He has always preferred to take a whole-body approach to provide his patients with specific, individualized care.
In 2022, Dr. Keats moved from Maryland to Arizona with his family and joined CARE Surgery Center in providing outstanding care and surgical expertise to our clients.
Thoracoscopic Lung Lobectomy for Primary Lung Tumors in 13 Dogs
Median sternotomy versus intercostal thoracotomy for lung lobectomy: A comparison of short-term outcome in 134 dogs.
The effect of polydioxanone hemicerclage suture on the occurrence of fracture during tibial tuberosity advancement with an elongated bi-directional hinged osteotomy.
Bloomberg Memorial Resident Research Award
Biomechanical comparison of tibial plateau leveling osteotomy performed with a novel titanium alloy locking plate construct versus an established stainless-steel locking plate construct.
Dec 2015
Veterinary Orthopedic Society
American Veterinary Medical Association
Nov 2019 – Present
European College of Veterinary Surgeons – Diplomate
Jul 2018 – Present
Veterinary Orthopedic Society
Nov 2015 – Present
Veterinary Endoscopy Society
Apr 2015 – Present
American College of Veterinary Surgeons
Jul 2015 – Present
Royal College of Veterinary Surgeons
Mar 2012 – Present
Veterinary Surgery Specialists