Orthopedic Surgery For Dogs & Cats Orthopedic surgery is evolving for our pets as fast as it is in people.
Improved understanding of orthopedic conditions in animals coupled with new technologies, allows CARE Surgery Center to treat more types of bone and joint disorders in dogs and cats to ensure pain-free mobility and maximum quality of life for your pet.
Conditions Treated with Orthopedic Surgery
Minimally Invasive,
Maximizing Quality
The health and wellbeing of your pet is our priority. CARE Surgery Center minimizes the impact of orthopedic surgery on dogs and cats by using state-of-the-art minimally invasive techniques. The benefits for your pet include reduced pain, shorter recovery time, faster healing, and a more rapid return to function.
READ MORE
Our advanced imaging technologies, such as computed tomography and fluoroscopy, allow us to repair fractures and other orthopedic conditions through a smaller scale approach. Our knowledge of arthroscopy techniques also allow us to perform joint surgeries through keyhole-sized incisions. At CARE Surgery Center, we provide the highest standard of veterinary care to every pet that comes through our doors.
SHOW LESS
What are the signs that my dog needs orthopedic surgery?
We take our mobility for granted until it is limited in some way and the same goes for our companion animals. Sometimes dogs and cats are good at hiding orthopedic problems like a broken leg or a congenital condition that affects the joints. The fact that they can't tell us what's wrong presents a challenge. However, there are many signs that a vigilant eye can recognize.
Early detection of orthopedic conditions in your dog or cat can increase treatment options and decrease severity.
Should you notice any of the above signs, don't hesitate to notify your primary care veterinarian or schedule an examination with a veterinary orthopedic surgeon here at CARE Surgery Center.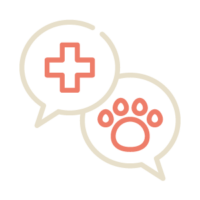 How Much Does Orthopedic Surgery For A Dog Cost?
CARE Surgery Center is committed to offering the highest standard of care to every animal in need. However, we understand that this is not always feasible financially.
Often, pet health emergencies can come as a greater shock and tend to be less anticipated than human health emergencies.
Depending on the severity of your dog's condition, CARE Surgery Center offers alternative options to accommodate various financial capabilities. We also accept CareCredit, which provides the option of an interest-free payment plan.
Veterinary Surgery Specialists
Companion Animal Referral
6677 W. Thunderbird Rd. L188
Glendale, AZ 85306
9035 W. Capitol Dr. Ste J101
Brookfield WI, 53045