Top Local
Veterinary Surgeons
CARE Surgery Center consists of 3 top local veterinary surgeons and a dedicated team of veterinary technicians, expertly trained to take care of your life's most precious companions. We understand the importance of your pet and work to provide a service that minimizes their discomfort while bringing them back to the quality of life they deserve. CARE Surgery Center provides less intrusive, state-of-the-art surgical solutions for your beloved dog, cat, and other companion animals.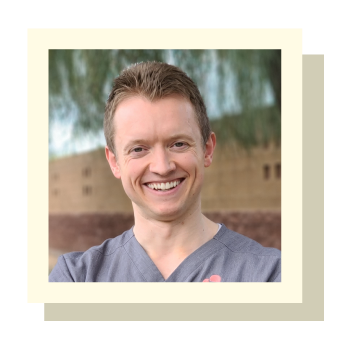 MVB, MS, DACVS-SA, DECVS, MRCVS, CCRT / Founding Veterinary Surgeon
Dr. Bleakley is originally from Northern Ireland where he earned his veterinary degree from University College Dublin. Dr. Bleakley completed an internship in medicine and surgery at VCA Veterinary Referral Associates in Maryland. He also achieved a Masters Degree in Veterinary Clinical Sciences at Colorado State University where he completed a four-year Small Animal Surgical Residency, with a focus on minimally invasive surgery.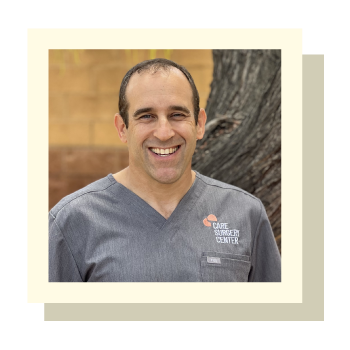 DVM, DACVS-SA / Veterinary Surgeon
Dr. Matthew Keats received his Bachelor of Science in Biology from the University of Maryland, College Park. He then graduated from the Virginia-Maryland Regional College of Veterinary Medicine in 1999. After graduation he continued his education with a small animal rotating internship at the VCA Berwyn and Franklin Park Animal Hospitals where he received the "Intern of Year" award. The following year, he remained on staff at VCA Berwyn Animal hospital as an emergency clinician and intern supervisor.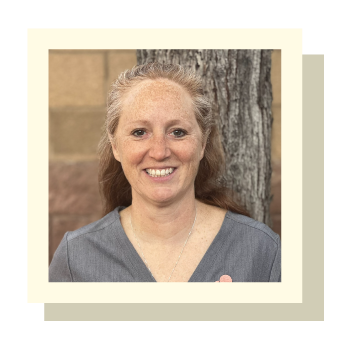 DVM, MS, DACVS-SA / Veterinary Surgeon
Dr. MaryAnn Radlinsky (Rad) graduated from Cornell University. She completed her internship and surgical residency at Texas A&M University. Following her training, she practiced in Pennsylvania for a year before returning to academia. She was a soft tissue surgeon at Kansas State University for 5 years and then at the University of Georgia for 12 years. Her research interests were in the development of many open and minimally invasive techniques.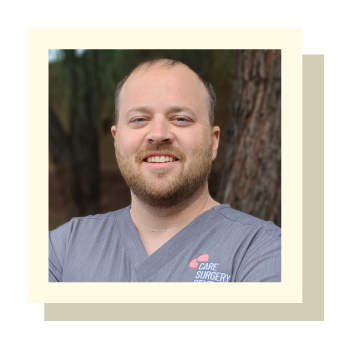 Doctor of Veterinary Medicine / Founder
Dr. Brandon Prince was born in Idaho and raised on a small family farm in Alberta, Canada. As a third-generation veterinarian, he often spent his childhood days joining his father on calls to local farms. After receiving his undergraduate degree in Nutritional Science in 2010, Dr. Prince moved to the island of St. Kitts, where he attended veterinary school at Ross University.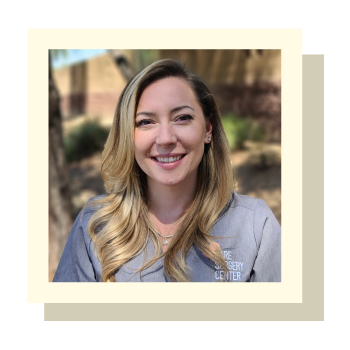 Clinical Operations Manager
Kimberley was born in the United Kingdom and began her Veterinary Career in 2005, immediately working in Orthopedic and Neuro-surgery specialty. After working with the British Veterinary Nurses Association on her certification, Kimberley began advancing her surgery knowledge and skill.
READ MORE
Leaving Veterinary Medicine for a short time to serve her country as a Combat Medical Technician, Kimberley returned to her passion and moved to the United States to continue her life adventures in Senior Veterinary Leadership. In her spare time, Kimberley loves to take her SUP out on the water and in those colder months, spends time Snowboarding or Camping.
SHOW LESS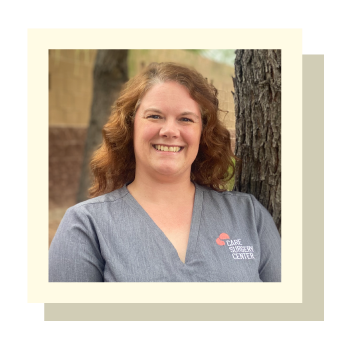 Client Services & Referral Coordinator
Carrie is our Client Services & Referral Coordinator and will go the extra mile to make sure your experience at Care Surgery Center is exceptional. Carrie has worked in the veterinary field for the past 20 years.
READ MORE
She started her career managing a small animal practice in Maine after graduating from the University of Maine Machias with a degree in Small Business Management. Since moving to Arizona she has worked as a Lead Client Services Specialist in general practice, specialty dermatology, emergency services and has now found her home away from home here at Care Surgery Center. In her time off she enjoys relaxing with her 3 dogs Bailee, Melville and Rosie, camping on her property and crocheting anything that comes in the shape of a square or a rectangle. She is also currently pursuing her certification as a Certified Veterinary Practice Manager (CVPM).
SHOW LESS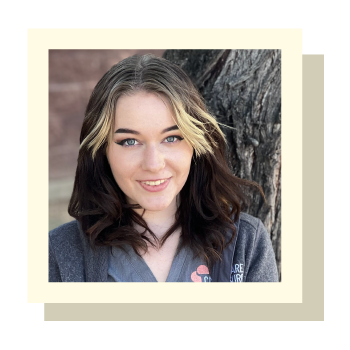 Client Services Representative
Cate was born and raised in Southern California and grew up with horses, bunnies, cats, and dogs. She always had a passion for animal health and rescue.
READ MORE
Cate is passionate about providing a calming experience to our patient's pet parents, understanding that surgery can be an anxious time and loves to take care of emotional well-being. Aside from Customer Service, Cate is Fear Free certified, and is currently enrolled in college to become a Certified Veterinary Technician. In her personal time, she works with her own pets at home. She has two dogs, Rosie and Finn, along with two cats, Timmy and Tifa.
SHOW LESS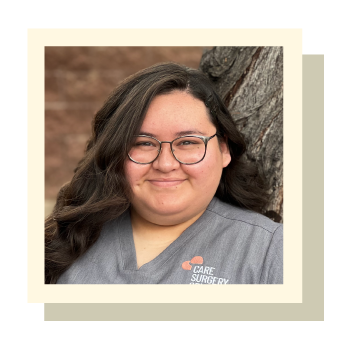 Client Services Representative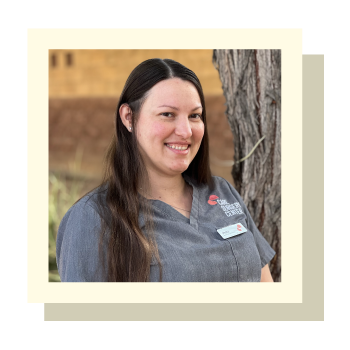 Certified Veterinary Technician
Jessica has been a part of the veterinary medicine family since 2005 and has earned her associates degree in veterinary technology and after committing more than 17 years of her life to Veterinary Medicine, Jessica became Certified Veterinary Technician, holding her license in Arizona!
READ MORE
Jessica is a lover of all fur-babies and scaled-babies alike. With her own mini zoo at home of 19, you guessed it of both fur-babies and scaled-babies, this does not stop her from advocating for patients. If anything, this fuels her desire to be the voice for those who do not have one. Her patients…your fur-babies!
SHOW LESS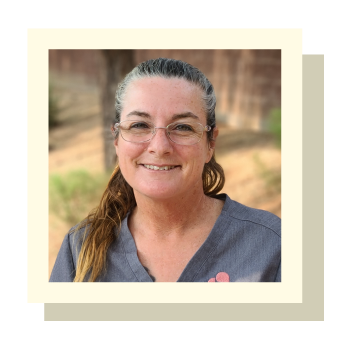 Certified Veterinary Technician
Brenda was born and raised in Tucson, Arizona. She has worked in the veterinary field as a Certified Veterinary Technician for 30 years with positions ranging from: general practice technician, Emergency/critical care technician, and management before settling into home at Care Surgery Center.
READ MORE
Brenda has a special interest in anesthesia, critical care, and educating clients about their fur babies. When Brenda is not at work, she enjoys training her horse, camping, and DIY projects around the house.
SHOW LESS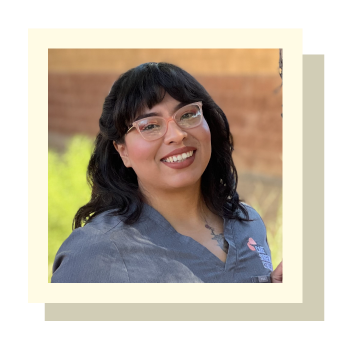 Certified Veterinary Technician
Stephanie was born and raised in Tucson, AZ and started working in the veterinary field in 2017. After being raised in a family that didn't like animals, Stephanie gravitated towards anything with fur or fluff! As a Certified Veterinary Technician who is licensed in the state of Arizona, it means she spent most of her career striving for more knowledge in veterinary medicine to better serve her patients.
READ MORE
After joining CARE Surgery Center, Stephanie set herself a goal of becoming a Veterinary Technician Specialist in Surgery (VTS – Surgery) and is passionate about fractures and oncological surgeries; and even goes home every day to study more about the cases we see! At home, Stephanie has 3 dogs and 3 cats… as well as a pet husband! She is a video game nerd but also enjoys cosplay and the great outdoors! (sometimes at the same time…)
SHOW LESS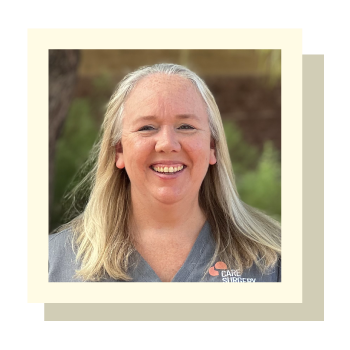 Certified Veterinary Technician
Angella joined the CARE team in August 2022 already having 16 years of experience in the veterinary field. Her experience ranges from General Practice and Specialty Surgery.
Angella is very passionate about abdominal surgery, particularly emergency splenectomy surgery, emergency foreign body removal, and more.
READ MORE
Angella became a Certified Veterinary Technician in 2006, holding her license in Colorado, then later became licensed in Arizona in 2016. At home, Angella has a pet husband, 3 cats and a recovering crazy cat lady… and a Pitbull named Gordy!
SHOW LESS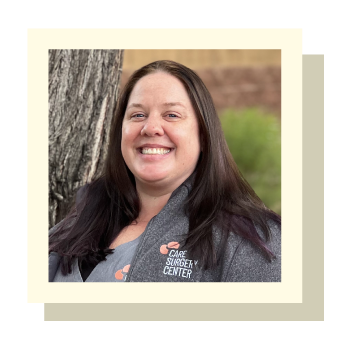 Certified Veterinary Technician
Desiree was born and raised in Southern California and after relocating to Arizona in 2005, she quickly fell in love with Veterinary Medicine so much so, that she began her Associate's Degree in Veterinary Technology. After successfully completing her degree, Desiree continued to build up her skills and knowledge which led her to become certified with the Arizona State Veterinary Medical Examining Board, contributing to CARE Surgery Center as a Certified Veterinary Technician.
READ MORE
After spending more than 17 years in the veterinary field within the valley, Desiree has fallen in love with supporting pets and their loved ones through advanced, specialty surgery.
At home, Desiree shares her life with her husband, and her two cats (there is still room for more!) In her spare time, you will find her hiking a mountain, or traveling to California to visit family.
SHOW LESS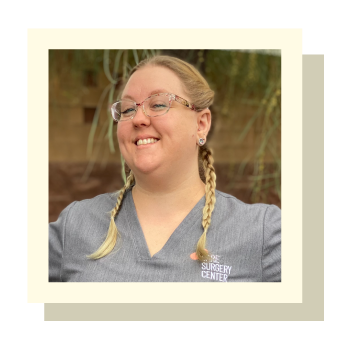 Aubrie joined the Care Surgery family in October of 2021. Aubrie is a Phoenix Native and has built her career in Veterinary Medicine since 2003. Aubrie started in General Practice and quickly progressed to Surgery, Internal Medicine, Emergency and ICU Critical Care but has returned to her love of Surgery. Aubrie shares her home with 6 dogs, 2 cats, a snake, many fish and a human!
READ MORE
In her spare time Aubrie enjoys rooting for her Diamondbacks and her Cardinals teams, relaxing with her pack and watching Netflix or Hiking in the winter. She has set a new goal to explore new cuisine with her human and is now becoming quite the connoisseur. Aside from this, it is important to say that Aubrie is our resident Crazy Plant Lady.
SHOW LESS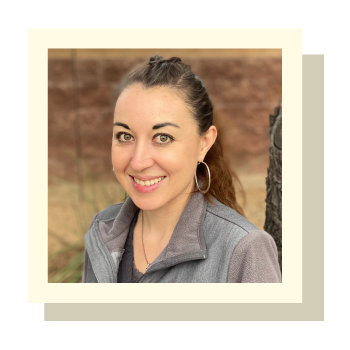 Shannon joined the CARE Surgery team in November of 2021. Although, new to us at that point, Shannon had a wealth of veterinary experience dating back to when she was 13 years old. Shannon began working for a Large and Small animal combination practice in the small town of Chino Valley.
READ MORE
When Shannon moved to Texas, she began developing an interest in Emergency and joined an Emergency, Exotics & Wildlife Hybrid practice where she was relied upon in critical situations. From there, Shannon has not taken a breath away from Veterinary Medicine and has so far committed her adult life to the care and medicine of pets. At home, Shannon shares her life with 1 human, and 2 dogs… whose names are Rameses, a Greyhound, & Lukas, a Shepherd mix.
SHOW LESS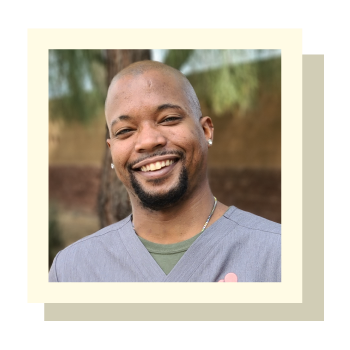 Joshua Kane is originally from Glendale, Arizona and has always had a soft spot for animals, especially exotics. Joshua was raised in Fort Worth, Texas with his mom & 3 siblings. Prior to moving back to Arizona to be with his family, Joshua's life was filled with animals of his own; 2 awesome dogs named Beauty & JR, 3 snakes, 5 scorpions & a bearded dragon named Ezra.
READ MORE
Joshua has experience with general, holistic, exotic & emergency/critical care practices during his 13 years in the profession. Since joining Care Surgery Center in 2020, Joshua is seeking his Certified Veterinary Technician designation while continuing to build on the extensive skill set and experience he brings to the team.
SHOW LESS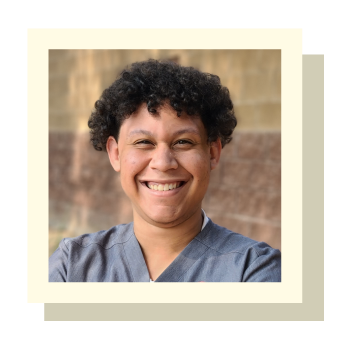 Hector began his commitment to Veterinary Medicine 3 years ago. Bump starting in the emergency field and transitioned into surgery, Hector soon discovered his passion for advanced surgeries and began working towards his CVT license.
READ MORE
After successfully gaining his CVT license, Hector aims to specialize in surgery. In his down time he likes to hangout at home, taking naps with his two dogs.
SHOW LESS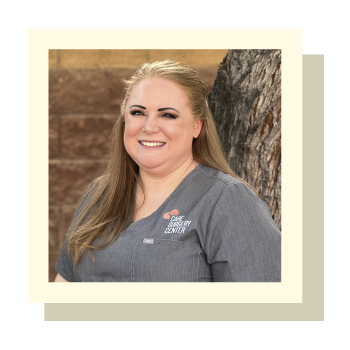 Katy was born and raised in Southern California but transplanted to Phoenix in 2009. She and her husband Mike have a son, Connor, and two dogs, Ruger and Scout. As a kid she was active in 4-H and then also in FFA and has always gravitated to working with animals.
READ MORE
She started working at a Veterinary clinic as an after-school job in High School and is now coming up on 20 years working in the veterinary field. Currently she is working towards finishing her schooling, so she become a Certified Veterinary Technician. She considers it an honor to be a part of your pet's care team.
SHOW LESS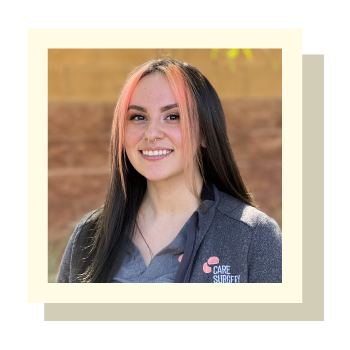 Jenn joined the CARE team in December of 2021 and has excelled in anesthesia and surgery. Coming from a background in General Practice and Urgent Care, seeing mostly emergencies in the Avondale & Surprise communities, Jenn came to our surgery center to advance her knowledge and gain specialist experience.
READ MORE
Already coming to us as a graduated and experienced veterinary assistant, Jenn is now currently in school to obtain her Arizona state license as a Certified Veterinary Technician and is excited to expand our ability to assist patients in need. At home, Jenn loves to spend time with her partner, Edwin, and her dog Sam!
SHOW LESS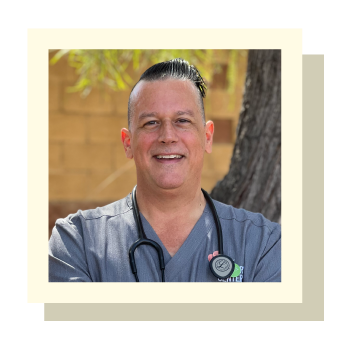 Sean joined the CARE Surgery Team in June 2022. Prior to starting with CARE, Sean has had an extensive life within the Veterinary Specialty field. Most recently, he worked alongside a board-certified surgeon as the sole traveling technician, preparing for and assisting in each surgery performed across the Metro Phoenix area and even assisted in the build up and growth of Arizona's very own Midwestern University School of Veterinary Medicine surgical department.
Sean shares his life with his wonderful human, one companion pet and 3 chickens!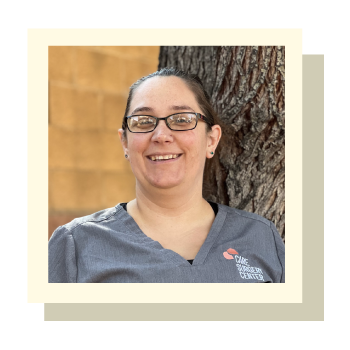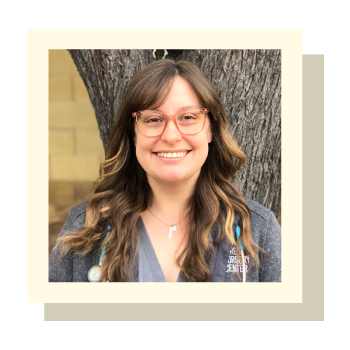 Jordan obtained her associates degree in Veterinary Technology from Broadview University in 2011. Originally from northern Utah, Jordan moved to the Phoenix area and began her career working in general practice before transitioning into specialty medicine.
READ MORE
Jordan's special interests include cardiology, pain management, and client education. She prides herself in providing exceptional nursing care, ensuring that her patients are comfortable and happy during their hospital stay. She is R.E.C.O.V.E.R. CPR certified and Fear Free certified.
Outside of work, Jordan enjoys spending time with her husband and their two chihuahuas, Dora and Enzo. She loves throwing dog parties, practicing yoga, and caring for her many indoor plants.
SHOW LESS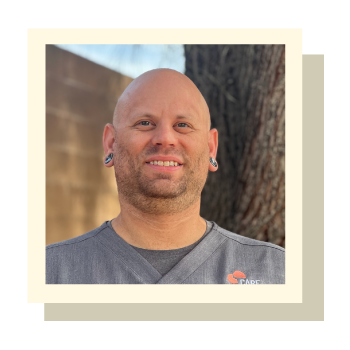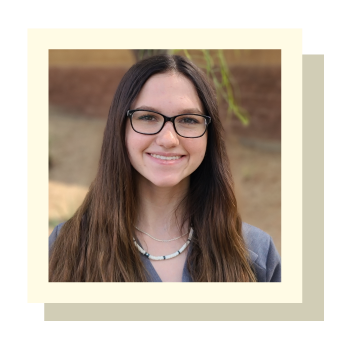 Lily joined our Care Family in March of 2021 during her Veterinary Assistant Certification and when graduated, she joined full time as a Veterinary Assistant.
READ MORE
Lily's role is to assist the smooth recovery of every patient we perform surgery with, and her expertise is greatly appreciated. In her own time, Lily enjoys painting, watching retro cartoons, and taking care of her pets. Lily shares her home with 3 dogs (Jake, Zoey, & Frank) and Leia the cat – yes… Lily is a fan of Star Wars!
SHOW LESS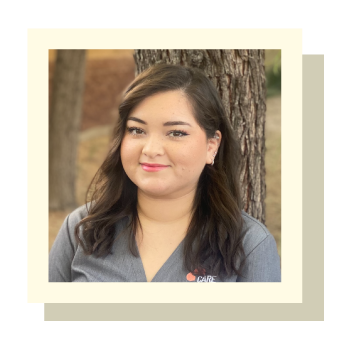 Alejandra joined the CARE Surgery team in November of 2021. Coming over to us from the leadership of a busy hybrid urgent care hospital, Alejandra began fitting into our hospital right away. In Alejandra's past, she worked on her Veterinary Technician qualifications but soon realized her passion lied within customer care and so set out to become an outstanding customer service team member.
READ MORE
At home, Alejandra has a pack of small dogs who follow her around everywhere she goes! We are thankful to have Alejandra working within our client care support team and she can be found answering calls to our patients in need!
SHOW LESS
Veterinary Referral
Surgery Services